Fred Blazer of the Commercial Record once said, "The gallery is her. It is impossible to imagine it without her. And if she ever leaves to retire into a comfortable life surrounded by her art, and her memories, the whole world of art in her small midwestern town will never be the same."
The "Her" was Joyce Petter and Blazer was correct.
Blazer was announcing Joyce and her galleries' 25th anniversary and he touted it as the largest and most influential gallery in West Michigan, not just Saugatuck.
It all started back in 1973 when Joyce Petter, a stay-at-home mother with 5 children said, "The youngest is off to school, I'm starting a Gallery!" And she did. You see, Joyce was a world traveler and experienced in the world of art and culture. She felt that quality artists in the United States needed better representation than was currently available. She wanted to create a space where the finest artists in the country could be spotlighted. Joyce went back to school and ultimately obtained a graduate degree in art history from the University of Cincinnati. She had a wide knowledge of Western artwork and she put her insights and knowledge to work and chose Saugatuck as her location. Joyce told me that she chose to open her gallery in Saugatuck because of its physical beauty and the traditional ambiance of culture and art which had always been a part of the area. It was important to her that the culture was not lost. Over the years she would fight to keep that culture alive.
Joyce was all business, but don't worry, the kids were not left behind! The family came first and each of her offspring enjoyed working in one of the finest galleries in the Midwest. Some enjoyed it more than others, but all of them learned from Petter's dedication to community, creativity, convictions, and work-hard play-hard attitude!
The first location for Joyce's gallery was in the heart of Saugatuck in a small corner of 134 Butler, directly across the street from the Sandbar. The name was PRAJNA: definition "for the people" or… for those that knew her well, Petter Ronningnen Anderson Joyce Not Applicable. Over the years the Butler Street gallery transformed: In "Joyce Petter Style." Eventually, Sandra Randolph of Good Goods sold her the entire building, and the renovations began.
First Joyce created a Garden space where scores of Marro's Restaurant pizzas were consumed after openings with Artists from across the United States. She wanted a place where people could enjoy their environment. A place where they could stay long enough to learn about the community and have enough faith in the quality of art that they would be encouraged to purchase a painting. And purchase they did. Often it would be the first major art investment of their lives, and today I meet those same people as they return to buy again.
As the gallery gained success Joyce added a Barn, an upstairs deck, and ultimately the Door! You may have noticed that Joyce has a thing for doors and her new Butler Street gallery front door was a stunning leaded glass door that was once the entrance to a church rectory. The door was a gateway to the truly fine art within the gallery. For inside, works from the likes of Fran Larson could be found. Larson was the first artist to be signed by Petter and the gallery's stable grew to 40 artists, some of whom are still represented by the gallery today! Nina Weiss, Gert Olsen, James Munce, Eve Whittaker, Micheal Maitner, Robert Klunk, and Lisa Vanderhill were signed by Joyce in the 80s and 90s and are still actively part of the gallery today! Joyce didn't stop there, she opened another gallery in East Grand Rapids and started a craft gallery on the corner of Culver and Water Street. Those galleries are now consolidated into what is now our Flagship location at 161 Blue Star Highway in Douglas.
Joyce Petter was a leader in the area, and we all carry on the tradition and remember how the arts community benefitted when after an influential art trip to Boston, Joyce started the Columbus Day weekend Gallery Strolls and President's Day weekend Winter Break. In the spirit of growth, she encouraged neighboring galleries and studios alike to get involved and The Art Coast of Michigan was born.
Joyce loved nothing more than gathering her contemporaries into a united front. Together, she and her friends saved the Saugatuck Paint Palette sign, collaborated with Ox-Bow, crafted Art-A-Loan for Saugatuck Schools along with the help of teacher Christa Wise, and kept "Generica" from entering our community by battling to keep McDonald's out of town! Joyce is a past president of the Saugatuck Area Business Association as well. There is no doubt that Joyce was, and is still, a force to be reckoned with: her focus then was her town, Saugatuck & Douglas. The community recognized Joyce's efforts and Ox-Bow praised Petter for her years of dedication to providing quality art through her gallery and her tireless dedication as a champion of causes to preserve the aesthetic ambiance of Saugatuck-Douglas while introducing additional cultural activities. Even Governor Granholm gave her own nod to Joyce when Joyce retired. The Governor honored Joyce with the State of Michigan Special Tribute Award and praised her for being a passionate individual who has long championed her community.

Through the first 20-plus years, the galleries flourished, and tourism in the area grew. Joyce found the need for yet more space. She also felt the need for a gallery with parking. Thus, in the late 80s she spied another location that was rich with art history and ripe for renovation. The old River Guild Gallery Center, then called Gray Gables, became available. Petter was excited about the new Douglas location, and she understood the importance of the Historical River Guild Gallery Center. The building constructed in the late 1920s first housed the Douglas Lumber Company before extensive renovations by Carl Hoerman to become the River Guild Gallery Center in 1942. Born in Bavaria, Germany, Hoerman was a landscape painter who moved to the United States in 1904, where he studied and worked in architecture until the 1920s. After that, he devoted his time to painting and building a studio in Saugatuck, Michigan. Known as the "dunes painter," Hoerman's paintings of West Michigan, as well as of West and Southwest America have captured art lovers for decades.
After she bought the building Joyce turned to her friend and architect John Hurst, and together they renewed the spirit of art at One-Six-One Blue Star Highway. The space was just what Joyce wanted, but, it needed new doors! Of course, the doors had to tell the story of fine art and culture, and they do! The vintage doors were sourced, along with carved wooden archways and mantels. Then, as fate would have it, Joyce discovered another door. It has been said that hidden behind drywall, she found the original front door which Carl Hoerman carved in the 1940s. This special door is carved with Hoerman's Sculptor logo and now hangs in perpetuity within the gallery. Joyce and her family have adopted Hoerman's logo, the sculptor who is now affectionately known as the sculpting dude and the Wine Guy! Next came the Barn, and of course the Garden. Sound Familiar?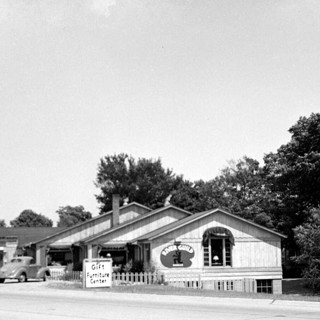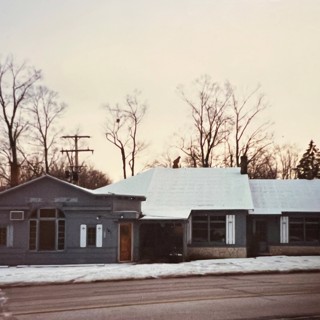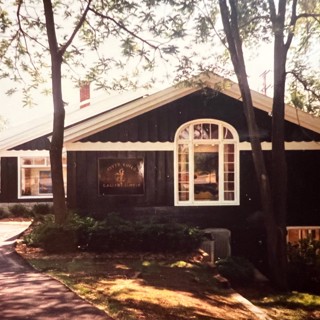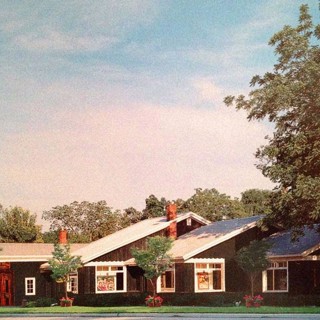 It has been 50 years since that grand day when Joyce made the decision to make a difference in our community. It was always about family, and she kept it that way. Joyce's children all worked with her, and she extended the business to her daughters-in-law as well.
When Joyce retired in 2006 Connie Petter first ran the show followed by a short stint with Joyce's friend Arthur Frederick. In 2013 with the future of the gallery in question, Juli Petter left the corporate grind to transform a section on the main floor of the gallery to showcase handpicked selections of boutique wines creating the area's premiere wine shop appropriately named the Petter Wine Gallery. Juli Petter had spent her childhood surrounded by art. Her mother Mary-Ann Perry taught at Kendall School of Art and Design and Aquinas College and was also a founding member of the still-thriving Grand Rapids art group, Grand Valley Artists. Juli had visited the Joyce Petter Gallery frequently with her mother and considered it her favorite years before she met her husband Doug Petter. Even though Juli spent most of her career outside of the arts, her eye for art and love of wine remained constant. She moonlighted as an independent interior decorator and studied what she calls the art of wine. In 2015 she became the owner and director of the renamed J. Petter Galleries upholding Joyce Petter's art legacy. The J is a nod to Juli and Joyce of course, as Joyce is the woman who created this wonderful enterprise.
The flagship gallery location at 161 Blue Star now has 24 rooms within its 12,000 square feet. Over 130 artists are represented and 1400 plus pieces of art are on display. Customers can visit our in-house wine bar and wine shop and then savor a glass of wine as they stroll through vignettes carefully curated by our expert design team. Joyce always wanted her gallery to be a space for folks to linger and savor.
In Joyce Petter's style the gallery is continuing to grow. New to the Flagship Douglas gallery is the Petter Sculpture garden featuring outdoor artwork.
In 2022 When the owners of Armstrong De Graaf International Fine Art were ready to do the same they approached Juli to take on the Armstrong DeGraaf properties. Armstrong De Graaf International Fine Art is now the J. Petter Galleries Holland Annex and the J. Petter Galleries Saugatuck Annex, featuring contemporary and historic artwork from long-standing Armstrong DeGraaf artists as well as new additions. We at the J. Petter Galleries are honored to continue the legacy of both historic galleries as we work with the artists and collectors that Armstrong DeGraaf International Fine Art has cultivated.

So, while Joyce has retired into a comfortable life surrounded by her art and her memories, the whole world of art in her small midwestern town remains. Thanks to Joyce, and others in our community who share her passion, The Art Coast of Michigan continues to thrive, and her gallery is here for all to enjoy.